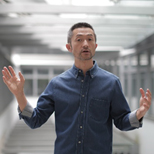 ZHENG, Bo, Ph.D.
Artist & Assistant Professor
School of Creative Media, City University of Hong Kong
http://zhengbo.org/

【An Online Learning Platform for Chinese Socially Engaged Art】

I started teaching socially engaged art at China Academy of Art in 2011, and quickly realized that it was difficult to find materials on what Chinese artists have created. If students could not learn from previous generations, they would have to reinvent the wheel. So I decided to build an online learning platform for Chinese socially engaged art. Over the past four years, with the generous support of the artists, my research team and I have built seachina.net, a digital archive and an online course (MOOC). I will discuss what we have learned in the process, both practically and theoretically.